March 14, 2012 at 11:03am
authored by Lynne Peeples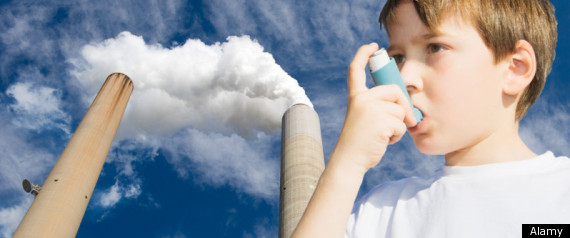 Asthma was once just an academic concern for Sylvia Brandt, who has spent years studying the chronic lung condition and calculating its tragic toll. Now, the threat is personal.
"One night I woke up and my daughter was really struggling to breathe. I thought, 'This was it: This is really the time that I might lose her.' It's an overwhelming feeling -- I can't describe it," said Brandt, a PhD research scientist at the University of Massachusetts, Amherst.
Brandt's daughter, Willow, who survived the attack and was diagnosed with severe asthma, is far from alone among her peers. In some schools in Springfield, Mass., which neighbors the Brandts' hometown of Amherst, as much as 40 percent of the student body suffers from asthma and the wheezing, coughing, breathlessness and chest tightness that come with it. The area is bordered by two major highways and is in close proximity to the Mount Tom coal-burning power plant.
"We're getting hit from all sides," said Brandt.
This is a nationwide concern. The number of asthma cases in the U.S. has doubled since 1980, and now affects 1 in 10 children, according to the U.S. Centers for Disease Control and Prevention. One of the major underlying causes -- emissions from coal-fired power plants, boilers and car tailpipes -- continues to flow mostly unabated, even as the Environmental Protection Agency struggles to regulate the fossil fuel industry and defend itself against right-wing critics who question the agency's agenda -- even its existence -- during this time of fiscal constraint.
Just last week, a close vote in the Senate halted an attempt to scale back rules unveiled by the EPA last year. These regulations would require industrial boiler and incinerator operators to install technology to reduce harmful air pollutants, such as mercury and soot; a requirement that opponents argue is very costly for businesses and risks the loss of more precious jobs and even plant closings.
"Any person who would say that the EPA should be eliminated or its ability to regulate reduced," Brandt said, "should have to sit in the emergency room holding the hand of a child who can't breathe........
Read the full story at HuffingtonPost.com