December 12, 2011 at 17:12pm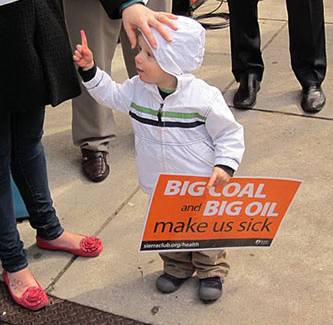 A moment south of Homer City, Pennsylvania three towering smoke stacks and enormous, squat cooling towers perpetually billow massive clouds into the sky. At sunset the horizon on which the towers sit turns shocking shades of orange and pink, betraying the chemical contents of the endless emissions. This structure is the Homer City generating station, a coal-fired power plant owned by General Electric and operated by Edison International.
The Homer City power plant is a familiar sight to residents of Indiana and surrounding counties. The primary stack, the third tallest in North America, is visible for miles on a clear day. Many of our neighbors, friends and families are or have been employed by the electric utility. This monolithic structure has generated electricity day in,day out for decades.
If the image and economic impact of the Homer City power plant are inseparable from the South Western region of Pennsylvania so is the environmental and public health impact. The Homer City power plant has faced numerous lawsuits for continued violations of the Clean Air Act (CAA) interstate air pollution rule, charged by New York and New Jersey for contributing to acid rain, smog, and health effects related to toxic emissions. One of the worst polluting coal-fired power plants in the United States, EME Homer City Generation LP (The Plant) continues to operate as it did decades ago, in spite of the danger to our health and the environment which is presented by the tens of thousands of pounds of toxic chemicals it spews forth.
A recently released report by the Environmental Integrity Project ranked the Homer City power plant (EME Homer City Generation LP) the seventh dirtiest coal-fired power plant in the nation. The power plants were ranked according to their emissions as reported to the Environmental Protection Agency's Toxic Release Index (TRI). The TRI tracks the release of toxic chemicals across a variety of industries.
Six of the top twenty dirtiest plants are in Pennsylvania; three are in Western Pennsylvania. Pennsylvania ranked first in arsenic, cobalt and lead emissions, and second in hydrochloric acid. Six of the top ten arsenic emitters are located in Pennsylvania.
The Homer City power plant (7th dirtiest!) reported 5,153 lbs of arsenic, chromium, lead and mercury emissions in 2010. The Plant ranked third in arsenic emissions with 2,400 lbs, and fourth in hydrochloric acid with a staggering 4,100,005 lbs. By their own admission EME Homer City Generation LP is one of the most serious polluters in the United States, dumping millions of pounds of deadly chemicals into our air and water each year.